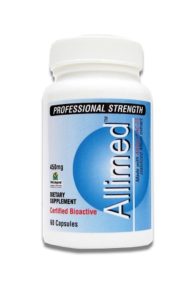 In my own recovery, garlic extracts (chemically known as allicin) were tremendously helpful. Garlic is one of those extremely versatile substances with so many health benefits, including being anti-microbial.
I have used many allicin supplements, but the one I've always come back to is Allimax. Recently, we have partnered with Allimax to offer you $10 off your order when you use coupon code "promotion" on their website. There are two strengths of product you can choose from: Allimed & AlliUltra. Be aware that as with most antimicrobials, these products can elicit significant die-off reactions, so be sure to keep detox pathways open and have your anti-inflammatory supplements ready.
Allicin was studied specifically for it's ability to help Lyme sufferers – you can read the study here, and the followup to the study, here.
I also strongly recommend that you read this article on the benefits of allicin As you will see, this is a very broadly applicable substance with many uses for Lyme sufferers. The article will also answer many of your questions. I'm always excited to bring non-pharmaceutical treatments to you – they are usually more affordable, with less side effects and hassle. This is one such supplement, and I think all Lyme sufferers should consider adding it to their treatment arsenals.
FREE BONUS: Thanks for reading today, here is your free copy of the book, "Allicin the Heart of Garlic." 
As usual, consult your physician before beginning any new supplements or treatments.
If you enjoyed this article, please subscribe to my Anti-Lyme Journal to get periodic updates from me. Just click on "subscribe" at the top of the page, in the menu bar. Thanks for reading!