$39.95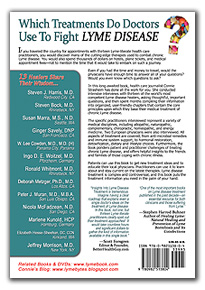 Book Back Cover
(Click to Enlarge)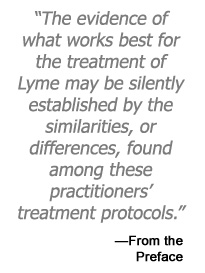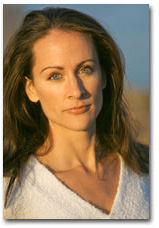 Author Connie Strasheim is an accomplished health care journalist. Her writing style is both informative and encouraging. When not traveling the world (her travels provide inspiration for her writing), Connie lives in Colorado and maintains a well-known Lyme-related blog: www.lymebytes.blogspot.com. Don't miss Connie's first book, entitled The Lyme Disease Survival Guide.
"This very informative book is the first of its kind on healthcare practitioners and doctors who treat tick and insect-borne chronic illnesses with different methods. It's like a window through which one can peer into other physicians' practices to see what they do to improve the health of their patients. It's a perfect addition to Connie Strasheim's first book, The Lyme Disease Survival Guide. The author fully understands what this illness is about and has explored it completely."
—Maureen Mcshane, M.D.
From the Foreword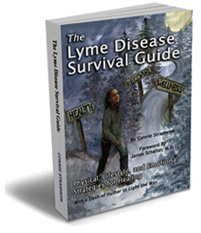 Don't miss Connie's other Lyme disease book! Click Here to learn more.
443 Pages, Paperback, $39.95
By Connie Strasheim
Foreword by Maureen Mcshane, M.D.

With Bonus Articles by Dietrich Klinghardt, M.D., Ph.D.,
and James Schaller, M.D.

Why buy a book on just one treatment ideology when you can discover treatment strategies used by 13 doctors—all inside the same book?


FROM THE PUBLISHER: In the next few paragraphs you will learn why this is "one of the most important Lyme disease books of the last decade" (praise from Stephen Harrod Buhner, author of Healing Lyme).

If you traveled the country for appointments with thirteen Lyme-literate health care practitioners, you would discover many of the cutting-edge therapies used to combat chronic Lyme disease. You would also spend thousands of dollars on hotels, plane tickets, and medical appointment fees—not to mention the time it would take to embark on such a journey.

Even if you had the time and money to travel, would the physicians have enough time to answer all of your questions? Would you even know which questions to ask? Are you confident you could walk away from the appointments with the information you need?

In this long-awaited book, health care journalist Connie Strasheim has done all the work for you. She conducted intensive interviews with thirteen of the world's most competent Lyme disease healers, asking them thoughtful, important questions, and then spent months compiling their information into organized, user-friendly chapters that contain the core principles upon which they base their medical treatment of chronic Lyme disease. The specific practitioners interviewed were chosen for their expertise and experience in treating Lyme disease. Their backgrounds span a variety of disciplines, including allopathic, naturopathic, complementary, chiropractic, homeopathic, and energy medicine. Two European physicians were also interviewed. All aspects of treatment are covered, from anti-microbial remedies and immune system support, to hormonal restoration, detoxification, dietary and lifestyle choices. Furthermore, the book ponders patient and practitioner challenges of treating chronic Lyme disease, and offers helpful insights to the friends and families of those coping with chronic illness.

Patients can use this book to get new treatment ideas and to educate their local physicians. Practitioners can use the book to learn about and stay current on the latest treatments. Lyme disease treatment is complex and controversial. Many practitioners have a piece of the puzzle, but no single practitioner or medical discipline has all the answers. That is why this book is so important—it is a powerful resource that allows you to investigate your treatment options.

Author Connie Strasheim completed this book in August, 2009. Her first book, The Lyme Disease Survival Guide: Physical, Lifestyle, and Emotional Strategies for Healing was published in mid-2008.

Each chapter of this book is dedicated to a single physician's treatment strategy. Thirteen practitioners were interviewed for the book, so there are thirteen chapters. Below you can find the biographies of the participants. To see what exactly is included in their chapters, please view the Table of Contents. You can also see the book's cover enlarged.

Chapter 1: Steven J. Harris, M.D.
REDWOOD CITY, CA
Pacific Frontier Medical

Steven J. Harris, M.D. has been in private practice since 2001. Dr. Harris is a medical doctor (MD), board certified in Family Practice. His private practice was operated as a sole proprietorship until 2006, after which time he formed a California medical corporation, Pacific Frontier Medical, Inc.

Since 2001, Dr. Harris has focused his practice on the diagnosis and treatment of Lyme disease and other tick-borne co-infections. He believes that chronic, persistent Lyme is an epidemic in the United States, but that there are many effective treatments available to those infected. His approach to Lyme disease incorporates strategies found in conventional, functional and complementary medicine.

Dr. Harris has taken a leadership role in CALDA (The California Lyme Disease Association), a research, patient advocate and education group which has been largely responsible for spearheading favorable legislation protecting patients' rights, expanding Lyme disease awareness and fostering continued public health education.

Dr. Harris is also an active member of ILADS, (The International Lyme and Associated Diseases Society). This is a professional medical society of physicians and scientists which has become the de facto authority on effective treatment for chronic Lyme disease and is a rational counterbalance to the prevailing opinions of the IDSA (Infectious Disease Society of America), which refutes the existence of chronic Lyme disease. ILADS has focused its efforts on global physician education in order to increase the number of treating physicians available to those with Lyme.

There is currently a huge shortage of treating physicians for those with chronic Lyme disease, particularly on the West Coast. As a result, over the past three years, Dr. Harris has maintained three operating practices in various cities (Malibu, Redwood City and in Dr. Tod Thoring's practice in Arroyo Grande) in order to provide maximum geographic coverage for patients in California, Oregon and Washington. In June 2007, two new practitioners were recruited in order to increase operating efficiency and the size of the practice. Dr. Harris projects that the practice will now have more resources, with the capacity to receive twice as many patients as before.

---

Chapter 2: Steven Bock, M.D.
RHINEBECK, NY
Rhinebeck Health Center

Dr. Steven Bock has been practicing complementary and progressive medicine for over thirty years. He has treated the Lyme disease complex for over twenty-five years, utilizing the ILADS approach, by combining complementary with integrative medicine. He attended New York Medical College and received his M.D. in 1971. He became board certified in Family Practice in 1977, and holds a certification in Acupuncture, as well. Dr. Bock is Co-Founder and Co-Director of the Rhinebeck Center. He is a Diplomate of the American College of Family Practice, the American Academy of Acupuncture and the American Academy of Anti-Aging Medicine. He has been a member of International Lyme and Associated Diseases Society (ILADS) for the past twelve years, and has served for two years as a board member. Dr. Bock's medical practice merges traditional medicine with alternative and complementary medicine, and combines acupuncture, homeopathy, herbal, functional, nutritional and environmental medicine into an integrated medical model for optimal wellness.

Stay Young the Melatonin Way was Dr. Bock's first book, and was published in 1995 by Dutton. He has also co-authored two books with his brother, Kenneth Bock, M.D., entitled Natural Relief of Your Child's Asthma, published in 1999 by Harper Collins, and The Germ Survival Guide, published in 2003 by McGraw-Hill. Nancy Faass, MSW, MPH participated in the latter work. Dr. Bock has written for local and national newspapers, and lectured locally and nationally. He has appeared on local and national media including the ABC news show, 20/20, as well as other radio and television programs.

---

Chapter 3: Susan L. Marra, M.S., N.D.
SEATTLE, WA
Tailored Care

Twenty five years ago, Dr. Marra began her professional journey to discover the intricacies of the mind/body connection and how their interplay relates to disease development. She graduated from Guilford College in Greensboro, NC, with honors in Psychology and then received her Master's of Science degree in Psychology at Bucknell University in Lewisburg, PA. While there, she won several state and national awards for her academic and research achievements.

Soon thereafter, she was employed at the National Institute of Mental Health working under Thomas R. Insel, M.D. as a research psychologist in the Department of Brain and Behavior and while there, developed an appreciation for the scientific process of information gathering and reporting. However, her interest in the mind/body connection and medicine was not fully actualized until she enrolled at Bastyr University in Seattle, Washington. There she worked closely with Alan R. Gaby, M.D. studying clinical and therapeutic nutrition.

In addition, while attending Bastyr University, she opened the first Natural Health Research Clinic with Dr. Carlo Calabrese and Dr. Leanna Standish and worked as the United States liaison for Murdock Madaus Schwabe, a German phytoceutical company that specialized in the production of Echinaguard. In 1999, after receiving her degree in Naturopathic Medicine from Bastyr, she moved to Connecticut and opened a private practice that centered largely on environmental medicine and tick-borne infections.

Over the next eight years, in addition to operating her private practice, Dr. Marra trained with world leading experts in Lyme disease, including pediatric Lyme disease specialist, Charles Ray Jones, M.D., in New Haven, CT, and adult Lyme specialist Richard Horowitz, M.D., in Hyde Park, NY.

Dr. Marra's training in Lyme disease treatment and diagnosis is extensive. She maintains a professional interest in integrative medicine and attends meetings that foster knowledge in this area. She is a member of several professional organizations including ILADS (International Lyme and Associated Diseases Society).

Dr. Marra currently lives and works in Seattle, WA with her yellow lab Saxon and "labradoodle" puppy, Mielle. She hopes to bring greater awareness about tick-borne infections to the public through her private practice and community lectures.

---

Chapter 4: Ginger Savely, DNP
SAN FRANCISCO, CA
Compassionate Care of Tick Borne Disease

Dr. Ginger Savely is originally from Maryland but has lived in Austin, TX since 1979. In 2005, she opened her practice in San Francisco and currently resides there two weeks per month. She has Bachelor's degrees in Psychology, Music and Nursing. She graduated number one in her Bachelor's in Nursing program at U.T. Austin and was awarded the Outstanding Graduating Senior Award. Dr. Savely holds Master's degrees in Educational Philosophy and Nursing (specifically, the Family Nurse Practitioner program at U.T. Austin). She received her doctorate degree in nursing practice from Case Western Reserve University. She also holds advanced certification as a menopause clinician and as a master psychopharmacologist. She is fluent in Italian and conversant in French and Spanish.

Before entering the medical field, Dr. Savely worked for ten years as a performing singer/keyboardist/songwriter. She also worked for fifteen years as a Lamaze childbirth instructor.

Prior to treating tick-borne diseases, Dr. Savely had a special interest in fibromyalgia and chronic fatigue syndrome and gave professional presentations on these topics, including co-presentation of original research at the 1996 chronic fatigue syndrome conference in San Francisco.

In 1999, Dr. Savely started to gain expertise in the diagnosis and treatment of tick-borne diseases. She is now recognized as one of the top Lyme disease specialists in the country and patients come to her San Francisco office from all over the United States. Dr. Savely is an active member of ILADS (International Lyme and Associated Diseases Society). She also serves on the advisory boards of both the California Lyme Disease Association and the Charles E. Holman Foundation for Morgellons Research.

---

Chapter 5: W. Lee Cowden, M.D., M.D. (H)
PANAMA CITY, PANAMA
Academy of Comprehensive Integrative Medicine

Dr. Cowden is a board-certified cardiologist and specialist in Internal Medicine. Internationally known and recognized for his proficiency in the Evaluative Kinesiology technique, Dr. Cowden has also refined treatment protocols for cancer, Lyme disease, autism, Parkinson's disease, fibromyalgia, chronic fatigue syn-drome, as well as many other medical conditions, including the reversal of heart and vascular disease.

Dr. Cowden is the author or co-author of several publications and books including:

• An Alternative Medicine Definitive Guide to Cancer, 1997
• Cancer Diagnosis; What to Do Next, 2000
• Longevity, An Alternative Medicine Definitive Guide, 2001

In addition to these publications, Dr Cowden was also on the editorial board for: Alternative Medicine, The Definitive Guide, (First Edition, 1993; Second Edition, 2002) and contributed to the Alternative Medicine Guide to Heart Disease in 1998, as well as to several other books. Dr. Cowden is the Chairman of the Scientific Advisory Board of Academy of Comprehensive Integrative Medicine (2008). Academy of Comprehensive Integrative Medicine produces Internet courses in integrative medicine for health professionals and lay public nationally and internationally. He is also an international integrative medicine health educator who has given presentations in the USA, Mexico, Brazil, Peru, Guatemala, Germany, the Czech Republic, Japan, China, Taiwan, England, the Netherlands, Curacao, the Dominican Republic, Singapore and Malaysia.

---

Chapter 6: Ingo D. E. Woitzel, M.D.
PFORZHEIM, GERMANY
Dr. Ingo Woitzel

Dr. Ingo Woitzel graduated from medical school in 1981 from the University of Heidelberg in Heidelberg, Germany. He is a medical doctor with training in naturopathic and environmental medicine.

In addition, in 2004, he received a Master of Chiropractic certificate from the Ackermann College of Chiropractic, in Stockholm, Sweden. He is married with seven children and currently works in Pforzheim, Germany, where he treats Lyme disease (Borreliosis) and other conditions of illness.

Dr. Woitzel has been treating Lyme disease (Borreliosis) with photon therapy for about nine years. Over those nine years, I he has observed a relapse rate of about 3% in his patients.

---

Chapter 7: W. Ronald Whitmont, M.D.
RHINEBECK, NY
Ronald D. Whitmont: Homeopathic Care in New York City / Hudson Valley

Ronald D. Whitmont, M.D. is a second-generation classical homeopath. He graduated from the State University of New York Health Sciences Center at Brooklyn, completed a transitional (rotating) internship at St. Vincent's Hospital and Medical Center in New York City and an Internal Medicine residency program at the Reading Hospital Medical Center in Reading, Pennsylvania.

He became board certified in Internal Medicine in 1995 and in Holistic Medicine in 2000. He currently maintains offices in Rhinebeck and Manhattan, New York.

---

Chapter 8: Deborah Metzger, Ph.D., M.D.
LOS ALTOS, CA
Harmony Women's Health

Dr. Metzger is the medical director of Harmony Women's Health in Los Altos, California. She is also a gynecologist, reproductive endocrinologist, and integrative medicine practitioner devoted to the treatment of men and women with challenging medical problems. After graduating from college (SUNY at Buffalo, 1973), she obtained a PhD in molecular endocrinology from Baylor College of Medicine in Houston, Texas (1979). She graduated from the University of Texas Medical School at Houston (1982), completed her residency in both Obstetrics and Gynecology (1986) and a fellowship in Reproductive Endocrinology and Infertility (1988) at Duke University in North Carolina. After spending six years on the faculty of the University of Connecticut Health Center (where she was an associate professor) she went into private practice in Hartford, CT, specializing in chronic pelvic pain, endometriosis, infertility and advanced laparoscopic surgery.

In 1998, Dr. Metzger moved to the San Francisco Bay Area and joined Dr. Arnold Kresch in creating Helena Women's Health. After Dr. Kresch's untimely death in 1999, Dr. Metzger continued to expand the breadth and depth of the practice's services. In January 2004, she decided to give up her surgical practice in favor of an integrative medical practice and then opened Harmony Women's Health, which is dedicated to the treatment of the whole person, using integrative and holistic care in a nurturing environment.

Dr. Metzger is recognized as one of the leading authorities in the integrative and holistic treatment of endometriosis and chronic pelvic pain. By necessity, she is also an expert in chronic fatigue syndrome, fibromyalgia and Lyme disease since these problems often accompany pain issues. She has lectured extensively throughout the world, and has published widely in peer-reviewed journals and textbooks. Dr. Metzger is one of the editors of Chronic Pelvic Pain: An Integrated Approach, the first book on the subject of pelvic pain. She is also one of the authors of the first edition of, Operative Gynecologic Laparoscopy: Principles and Techniques, a groundbreaking overview of modern laparoscopic surgery. More information on her other published works can be found on the Internet at: www.harmonywomenshealth.com.

---

Chapter 9: Peter J. Muran, M.D., M.B.A.
SAN LUIS OBISPO, CA
Longevity Health Care

Peter J. Muran, M.D., M.B.A. entered medical practice as an emergency room physician. Throughout his eight years in emergency medicine caring for the most critical conditions, he never lost his desire to provide care that effectively considered all aspects of the patient's well being.

Following his experience as an ER physician, he began to practice in what were two of the most innovative areas of health care at that time; in-home geriatric and hospice care. His experiences in these areas cemented his belief that optimal health care can only be achieved through consideration of the physical, emotional and spiritual facets of the patient. Dr. Muran is one of the world's leading experts in holistic, alternative and functional integrative medicine. He is a founding member of the American Board of Holistic and Integrative Medicine. In addition, he is a licensed medical physician with over twenty years of experience.

Dr. Muran specializes in Lyme disease and the related conditions that complicate recovery. He is a member of the International Lyme and Associated Diseases Society (ILADS). Raphael Stricker, M.D., Richard Horowitz, M.D. and Charles Ray Jones, M.D. were his preceptor supervisors.

Since his training in Western medicine doesn't enable him to address all aspects of his patients' health, he has also developed expertise in complementary healing techniques that draw upon the innovations and experiences of conventional and natural medicine.

In addition, he has become a recognized expert in the treatment of candidiasis and natural hormone replacement therapy, and in the use of chelation therapy for cardiac disease and heavy metal detoxification. He integrates traditional primary care, alternative and complementary medicine into his practice and his goal is to seek out the most effective and natural, as well as the least invasive means of promoting optimal health for his patients.

Dr. Muran currently practices functional medicine in partnership with his wife, Sandy Muran, PhD Clinical Nutritionist, at Longevity Healthcare for New Medicine in San Luis Obispo, CA. More information on Dr. Muran's work can be found on his website: www.longevityhealthcare.com.


---

Chapter 10: Nicola McFadzean, N.D.
SAN DIEGO, CA
Dr. Nicola McFadzean

Dr. Nicola McFadzean is the founder and owner of RestorMedicine in San Diego, CA. Originally trained as a nutritionist and traditional naturopath in her native country of Australia, she later went on to receive her Doctorate of Naturopathic Medicine at Bastyr University in Seattle, WA. Dr. McFadzean is a Lyme-literate naturopathic doctor who combines conventional and integrative medical approaches to treat tick-borne illnesses. Dr. McFadzean is a member of the International Lyme and Associated Diseases Association (ILADS) and has completed the ILADS training program under the mentorship of Dr. Steven Harris. She is also affiliated with Dr. Yang's Family Care in Santee, CA.

---

Chapter 11: Marlene Kunold, "Heilpraktiker"
(Health Care Practitioner)
HAMBURG, GERMANY

Marlene works in Hamburg, Germany as a "heilpraktiker," which, in English, might be translated as "healing practitioner," but in Germany, this title encompasses a broad range of training programs and qualifications. Some practitioners with this title are only qualified to do reflexology massage, for example, while others do the kind of work that Marlene does, which is similar to that of a naturopathic doctor. To obtain her certification as a heilpraktiker, Marlene had to undergo medical training and take a written and oral exam, the latter of which involved standing in front of doctors who asked her difficult questions in an attempt to make her fail the exam! This practice of asking difficult questions, however, is quite common, and is done in order to separate the "good from the bad".

The education and training of a heilpraktiker is shorter than that of a physician's, but is more holistic, although the time that it takes to finish a particular program depends somewhat upon the student's initiative and how much he or she wants to learn. Marlene has also completed a lot of seminars, studying and teaching on her own, in addition to what she learned through this program. That she is able to work as a holistic heilpraktiker is no small feat, since 90-95% of those who wish to obtain this title don't pass the certification exam, because it's so difficult. Those that do, however, can then choose the areas of medicine that they want to specialize and work in. It's also up to the individual heilpraktiker to decide how deep he or she wants to get into the healing arts.

Today, Marlene maintains a practice in Hamburg. About 40% of her cases involve patients with Lyme disease.

---

Chapter 12: Elizabeth Hesse-Sheehan, DC, CCN
KIRKLAND, WA
Experience Health, Inc.

Dr. Hesse-Sheehan is a Holistic Chiropractor, Quantum Neurologist and Certified Clinical Nutritionist. She has the exceptional ability to learn about and integrate the newest, cutting-edge healing techniques into her classic holistic healing background. Her scientific approach and intuitive heart have allowed her to be an innovator in various fields of kinesiology, chiropractic and light therapy.

She is extensively trained in a variety of healing modalities including multiple chiropractic techniques, Autonomic Response Testing and Quantum Neurology. She utilizes the teachings of Drs. Dietrich Klinghardt, John Brimhall, Dominique Richard, W. Lee Cowden, George Gonzalez and Louisa Williams. She has been in practice since 2000, and specializes in the care of complex disorders including chronic immune dysfunction syndromes, Lyme disease and autism. She has offices in Kirkland and Spokane, Washington.

---

Chapter 13: Jeffrey Morrison, M.D.
NEW YORK, NY
The Morrison Center

Dr. Jeffrey Morrison is a medical doctor who champions a nutri-tional approach to healthcare as well as preventing and reversing degenerative diseases. Dr. Morrison's treatments are aimed at enhancing the body's ability to heal and detoxify itself. Safe, non-toxic and non-invasive treatments are proving to be more powerful than conventional treatments, which involve drugs and surgeries that are often dangerous.

Dr. Morrison completed his undergraduate degree in psychology at the University of Rochester and received his medical doctorate from Jefferson Medical College in Philadelphia. He is trained and board certified in Family Practice and has completed additional training in environmental medicine.

In 2001, Dr. Morrison was on the medical staff at the Atkins Center for Complementary and Alternative Medicine in New York City, where he worked under Dr. Robert Atkins, the developer of the famous low carbohydrate diet, the Atkins Nutritional Approach (or Atkins diet, as it is commonly referred to). He then went on to become the medical director of the Wellness Medical Center of Integrative Medicine in New York City.

In 2002, Dr. Morrison opened The Morrison Center on Fifth Avenue, just steps away from Manhattan's Union Square. Since then, Dr. Morrison has used his successful integrative medicine and nutritional approach for both health optimization and the treatment and prevention of degenerative diseases, such as arthritis, Lyme disease, high blood pressure, hormone imbalance, obesity, diabetes, chronic fatigue, anxiety, depression, heavy metal poisoning and many other ailments.

Dr. Morrison is a member of the American Academy of Environmental Medicine (AAEM) as well as a lecturer and board member for the American College for the Advancement in Medicine (ACAM). He has appeared on television, written journal articles and chapters for textbooks, and lectured throughout the country in the field of integrative and complementary medicine.

Dr. Morrison has been featured as a health specialist on The Discovery Channel, Next Top Model, and in several documentaries related to anti-aging. He has also contributed to articles in such publications as Cosmopolitan, Men's Journal, Shape, Fitness and New York Magazine, as well as in other health related resources around the United States.
About the Author
Connie Strasheim was born in 1974 and raised in Denver, Colorado. She holds a Bachelor's degree in Spanish for Business and graduated in the top two percent of her class from the University of Colorado at Boulder. In addition to other types of employment, she spent her twenties working as a flight attendant for United Airlines in New York and traveling around the world. In her spare time, she participated in and led humanitarian missions to Latin America and wrote travel narratives and novels. These were inspired by her having lived overseas in Argentina, as well as by her travels to over forty-five countries.
In September 2004, and at the age of 30, she "crashed" from Lyme disease (although some symptoms had started to manifest many years prior, during her university years and perhaps even childhood). Over the following year, she visited over thirteen physicians before she was finally diagnosed with Lyme disease in June, 2005, by Dr. Arlyn LaBair at the Fibromyalgia and Fatigue Center in Denver. During subsequent years, in an attempt to heal herself, she became a full-time medical researcher. No longer able to work as a flight attendant, she worked part-time as a Spanish medical interpreter and private Spanish instructor whenever her health allowed her to.
In November, 2007, Connie traveled to Costa Rica to write her first Lyme book, The Lyme Disease Survival Guide: Physical, Lifestyle and Emotional Strategies for Healing, and to temporarily experience what was, in some ways, a healthier, less expensive way of life. Connie lives in Denver, Colorado and is available for interviews.
---
Place your order for
Insights into Lyme Disease Treatment
Paperback Book :: $39.95 :: 443 Pages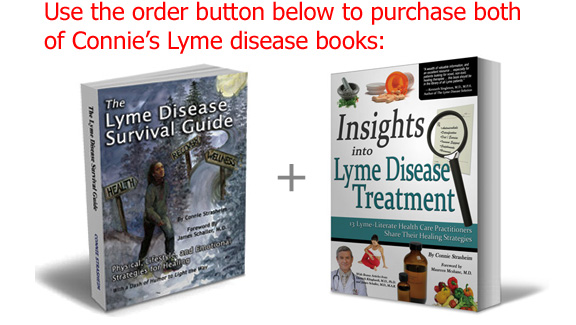 Order both of
Connie's books: