Rife-Related Books:

The Rife Handbook of Frequency Therapy
By Nenah Sylver, PhD | 760 Pages
New 2009 Hardcover Updated Edition!
Holistic technology for cancer and other diseases. Weighing over 2 lbs., and over 760 pages long, this book is thorough and comprehensive. Nenah Sylver is an acclaimed rife technology expert and has spoken at several Rife International Health Conferences. This book includes the Common Annotated Frequency List (CAFL), with hundreds of experimental frequencies!

$99.95 | Learn More... | Author on DVD!

Also available as an EBook! (click here)


Lyme Disease & Rife Machines
By Bryan Rosner
Discover how the Lyme disease community has been using rife technology for over 15 years in private homes to fight chronic Lyme disease! The book includes analysis of different types of machines, what they cost, and how difficult or easy they are to use. Additionally, you will discover critical evaluation of more than 20 other conventional and alternative Lyme disease treatments. To see more Lyme-related books and DVDs, visit our Lyme Book Store.

$35 | Learn More... | Author on DVD!
The Cancer Cure That Worked: At Last You Can Read The Rife Report
By Barry Lynes
Investigative journalism at its best. Barry Lynes takes readers on an exciting and revealing journey into the life work of Royal Raymond Rife, inventor of the rife machine. This book reveals the history and healing power of energy medicine. Don't miss Barry's new book, Rife's World, available below.
Wholesale and retail pricing available.
$19.95 | More info...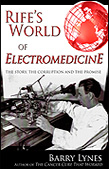 Rife's World of Electromedicine: The Story, The Corruption and The Promise
By Barry Lynes
Published in 2009!
In 1987, Barry Lynes wrote the "classic" book on the history and biographical story of Royal Raymond Rife (titled The Cancer Cure That Worked, available above). Written more than 20 years later in 2009, Rife's World is the sequel. Although both books cover the same story, Rife's World approaches it from a NEW angle and presents new, previously unknown details!

$17.95 | More info...
---
Rife-Related DVDs:


Video Documentary—Rise and Fall of a Scientific Genius: The Forgotten Story of Royal Raymond Rife Zero Zero Two Productions
2-DVD Set | 2 Hours, 5 Minutes plus Bonus DVD. Critically acclaimed by Townsend Letter for Doctors and Patients, and Nexus Magazine, this video documentary takes you deep into history and explores the scientific achievements of Royal Raymond Rife.
$39.95 | Sample Video Clip! | More info...


Rife Conference DVD featuring Richard Loyd, Ph.D.
Educate yourself about the technical details of rife machine therapy. Richard Loyd, Ph.D., is one of the world's leading experts on rife machine technology. This DVD, which includes a 57 minute video-taped presentation from the Rife International Health Conference, features Dr. Loyd discussing various types of rife machines, how they work, and the details of their operation.
$24.50 | Learn More...


Rife Conference DVD featuring Bryan Rosner
Bryan Rosner's presentation at the recent Rife International Health Conference
On this DVD, you can watch author Bryan Rosner discuss the 4 experimental rife devices that he believes have the longest track record: The Coil Machine (also known as the "Doug Device"), the AC Contact Machine, the High Power Magnetic Pulser, and the EMEM device. To read more about Bryan's work, visit our Lyme Disease Store. more here. Also available is a book on MMS.
$24.50 | Learn More... | Rosner's Books


Rife Conference DVD featuring Nenah Sylver, Ph.D.
Author Nenah Sylver's presentation at the Rife International Health Conference held in Seattle, Washington, October 10-12, 2008.
Nenah Sylver, Ph.D., is well known for her rife technology handbook, which is considered the most thorough, authoritative book on the topic. This 88-minute DVD allows you to get access to Dr. Sylver's vast knowledge and experience in an easy-to-watch DVD format!
$24.50 | Learn More... | Rife Book | Sauna Book
BioMed Publishing Group

P.O. Box 9012

South Lake Tahoe, CA 96150

(801) 925-2411

Disclaimer: The products offered on this web site are intended for informational and educational purposes only and are not intended to prevent, diagnose, treat, or cure disease. The statements on this web site have not been evaluated by the United States Food and Drug Administration. If you have a medical problem see a licensed physician.

Copyright © 2007 BioMed | Advertise with us