By Bryan Rosner on Oct 28, 2009 in Research | comments(6)
Guest Post: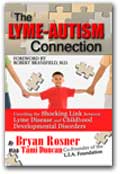 This is not word wrapped and pretty, but it's my working hypothesis.  Please contribute and or correct anything you deem correctible.  Never mind the mispells, that will be dealt with.  Just need your input?  Forward on to friends or someone just learning they have an autistic child.  I claim no intervention/idea/thought here is scientific, or tested or proven, but I do claim that this is what mothers gave me as their running hypothesis.  Many researchers also helped me find some interesting tidbits. 
 
Thanks 
 
THE PERFECT STORM
by KATHY BLANCO
A "perfect storm" is an expression that describes an event where a rare combination of circumstances will aggravate a situation drastically. 
The situation of the state of our nations health is eroding rapidly.  When we study a toxin, is it never studied in context of the numerous toxins
with it, and it's synergistic effect?  Just as we know that mecury and aluminum combine to make their neurotoxins more potent, so is the perfect storm
which gathers upon us, with every breath we take, every food we ingest, ever infection we get, and every faith and hope, that the "authorities" that regulate our
health and well being, are asleep at the switch.  This article may take you down a rabbit hole, that you may not want to read.