By Bryan Rosner on Aug 11, 2008 in Supplements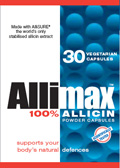 Ok, so I am going to talk a little about a topic everyone with Lyme has already heard a lot about – natural antibiotics for Lyme disease. Sure, pharmaceutical antibiotics have their use, but natural antibacterial substances present several important advantages:
Over-the-counter
Non-toxic
Typically does not contribute to candida issues
May also target many other infectious bacteria/viruses/organisms
Not synthetic – no liver and kidney side effects (typically)
Many more advantages
Today we are looking at garlic specifically. Keep reading…
You can see by reading my book, The Top 10 Lyme Disease Treatments, that I believe natural antibiotics have an important place in Lyme disease treatment. Here is an excerpt from the book which provides several of the most popular antibacterial supplements.
Natural garlic, eaten raw or in supplement form, is typically too weak to elicit real benefit in Lyme. Hence, many people give up on garlic. However, when the derivative of garlic is used, known as "allicin," the supplement is much stronger and some people say 100 times stronger. So, Lyme sufferers may wish to give it a try. Strong herxing may result so be careful.
Here are two brands of allicin derivative that I am aware of. There may be others; these aren't necessarily the best. If you have anything to add to these two companies, please do so here by leaving a comment below.
Alli-C by Affinity Products:
http://www.calcompnutrition.com/alli-c.html
Allimed by Allimax Company:
http://www.allimax.us/products.php
If you use these supplements for Lyme disease, please share your results! Post them here in a comment, or participate in one of our forums:
http://health.groups.yahoo.com/group/Lyme-and-rife/
—————————-
Below is a recent post from the lyme-and-rife group in which we discussed these issues:
This is indeed a very useful topic for this discussion group. Glad it
came up. Personally I think even the strongest garlic, e.g. allicin
extract, is just a strong natural antibiotic, probably not sufficient
to cure Lyme.
However, it is critical that you do not misinterpret this statement.
While I believe that rifing is in many cases the core, or
foundational treatment for the long haul, I *also believe* that
natural antibacterial supplements like garlic, colloidal silver,
etc., are *extremely valuable* and important and sometimes even
*essential.*
I often talk about the "push, pull" game that can be played with rife
and antibiotics. Rife pulls, antibiotics push (metaphorically
speaking). I think both can be important. I think, like teammates,
you may need both to win the game.
Interestingly, in Pamela Weintraub's new book, Cure Unknown (
http://www.lymebook.com/cure-unknown-pamela-weintraub ), she talks
about how she herself was CURED from Lyme. Interestingly she used a
strategy very similar to the rife strategy I discuss in my book Lyme
Disease and Rife Machines, but instead of a rife machine, she used
antibiotics, but only *after* the bacterial infection had completely
relapsed. So the theme here is definitely to let the bacteria come
out then hit it hard with antibiotics or rife. In my case I believe
in mostly rife but definitely "sprinkling" in antibiotics when needed.
So I think they are teammates. In fact, in Lyme Disease and Rife
Machines, I make the following statement:
"When progress with rife machines seems to be slowing…There may be a
large population of variant-form (i.e., L-form) organisms that are
not susceptible to rife treatments. Ironically, antibiotics can be
of help in this situation even though the variant-form organisms may
have been caused by excessive use of the wrong antibiotics in the
first place…limited use of appropriate variant-form antibiotics may
accelerate progress."
In this chapter I go on to describe a way to use antibiotics that I
believe is rational, moderate, and takes maximum advantage of the
advantages of both rife and antibiotics while minimizing their
disadvantages.
So, all this to say…I think the use of allicin can be very
valuable. Just remember the basic principles of any antibiotic, as
described in my book "The Top 10 Lyme Disease Treatments":
Principle # 1
Every antibiotic has a short time frame of
effectiveness
Principle # 2
Breaks must be taken between courses of antibiotics
Principle # 3
Rife machine therapy is used during breaks from
antibiotics
Principle # 4
A new and different antibiotic should be used for
each round of treatment
Principle # 5
Various adjunctive therapies can increase the
effectiveness of antibiotics
Principle # 6
Antibiotic use must be spread out over a long period
of time
Along these lines, I think, antibiotic use can be excellent. The
problems arise when the antibiotics are used NOT according to these
guidelines.
I'd love to keep hearing from people who have used garlic/allicin
supplements.
Bryan Rosner
— In Lyme-and-rife@yahoogroups.com, "amymac2004″ <amymac2004@…>
wrote:
>
> Bryan- My doctor (a very reputable,published LLMD psychiatrist)
said
> she only has 2 long term patients that claim to be cured from lyme
and
> they both take allicin (amongst many other protocols). I wonder if
> it's keeping them in cyst form? Since it is so strong? wondering
your
> thought on this?
> We should rife those two people and see what happens!!…
> Amy
>
> — In Lyme-and-rife@yahoogroups.com, "theskyking123″ <TheSkyKing@>
> wrote:
> >
> > Garlic is indeed a very strong, natural, valuable, cheap
> antibacterial.
> > It is very useful. It is not however, a cure – never has been,
never
> > will be. And it absolutely does not eradicate many or most cysts
in
> > vivo. These are long standing facts.
> >
> > Bryan
> >
>