By Bryan Rosner on Sep 5, 2012 in Supplements | comments(0)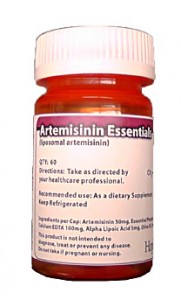 Many people have heard of "liposomal" supplements but wonder if they are hype, or for real. They are for real. Liposomal vitamin C has been shown to be absorbed up to 5x as effectively as any other type of vitamin c. Liposomal products are encapsulated in a fatty matrix which makes them much more fat-soluble and readily absorbed from the intestinal tract. One of my favorite liposomal vitamin c brands is Liv-On Laboratories Liposomal Vitamin C, which can be purchased from Amazon.com or iHerb.com.
Researched Nutritionals* also makes a liposomal glutathione product. Glutathione is the body's "master antioxidant" and the liposomal form of this product gets the substance where you need it, faster, bypassing the process of digestion.
Recently, Hopkinton Drug* released a liposomal artemisinin product which appears to be highly promising. Hopkinton Drug is also one of the only suppliers in the country which, at the present time, has in stock the important anti-parasitic herb known as Mimosa Pudica and recommended by Dr. K. Remember: these antiparasite treatments aren't just for helping deworm the gut, they also help break down biofilm throughout the body and can lead to dramatic symptom improvement. In fact, one well-known Lyme doctor has documented worm DNA in Lyme biofilms, indicating that the action of these antiparasitic herbs and drugs reaches far beyond the gut.
Hopkinton Drug's Mimosa Pudica and Liposomal Artemisinin are over-the-counter and can be ordered by calling: (800) 439-4441.
Also, don't miss this flyer from Hopkinton Drug with more information on their products. Don't miss the back side of the flyer, page 2, with information on Mimosa Pudica and Liposomal Artemisinin.
* Disclosure: Lymebook.com is sponsored by Hopkinton Drug.
* Disclosure: Lymebook.com is sponsored by Researched Nutritionals.